QNX Neutrino RTOS for medical devices
The QNX® Neutrino® RTOS for medical devices is a key component of QNX Software Systems' solution for medical device manufacturers. It is designed to help medical customers meet stringent regulatory requirements by reducing the time and effort needed in pre-market qualification activities.
With the growing complexity of today's medical devices, regulatory scrutiny is becoming more stringent. Choosing a pre-qualified component with a known pedigree can significantly aid in the qualification process. The QNX Neutrino RTOS for medical devices is qualified by an independent third party to be compliant with IEC 62304, a standard for "Medical device software – Software life cycle processes". The product is supported on ARM, Power, and x86 processors.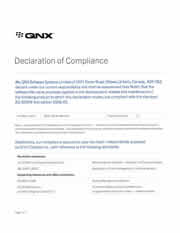 The QNX Neutrino RTOS for medical devices contains:
Binaries for microkernel and process manager, with support for adaptive partitioning and multicore processors
Independent third-party declaration of compliance to IEC 62304
Installation and usage guide
QNX medical solution
Understanding the challenges medical customers face with regulatory requirements, QNX Software Systems offers a variety of services to help customers with their approval activities. Customers can choose any number or combination of these services based on their project timeline and regulatory expertise. These services include:
Training course on how to build dependable systems
On-site audit
Medical assurance case assistance
SME consultancy
Proven-in-use data
With its unique technical advantage, proven track record, and professional expertise in building reliable and dependable systems, QNX Software Systems provides a trustworthy foundation for medical devices.