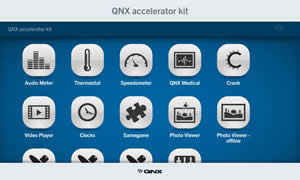 Prototyping just got a whole lot easier on QNX! See how our pre-integrated software with support for wireless and wired communications and touch-screen graphics components can move you quickly through the prototyping phase of your next project. Reduce your time to application development, remove your integration headaches, and launch your product faster, with QNX.
What are QNX Accelerator Kits?
The QNX Accelerator Kit is a demonstration and evaluation platform, which is being made freely available for developers and systems integrators for evaluating QNX software. The evaluation platform consists of pre-integrated software components that includes Wifi and Ethernet communications, H.264 and MP4 video, Qt 5.0 and OpenGL® ES 2.0 graphics with touch-screen support, custom software that integrates all components, along with the source files necessary to enhance and customize the software. Included with the software are several demo applications that highlight the unique features of the QNX operating system. The accelerator kits are being initially offered on the Freescale i.MX6-based Sabre Lite and the Texas Instruments AM335 Starter Kit boards.
The QNX Accelerator Kit is a proof-point vehicle aimed at accelerating the proof-of-concept (POC) and evaluation phases of development projects.
PLEASE NOTE
QNX does not supply the hardware needed for this evaluation.
What you get
SD Card image with pre-integrated software that includes:

reference applications and demos
Qt 5.0 and Crank Storyboard integration
OpenGL ES, touchscreen and Video (i.MX6 only) support
wireless connectivity

Momentics project files
Documentation for booting, exploring, and customizing the image
Hardware platforms
These kits run out-of-the-box on the following hardware platforms:
Texas Instruments Sitara ARM® Cortex™ A8 AM335x Starter Kit
Freescale I.MX6 BD-SL-i.MX6 Lite development board
Display
Silex SX-SDMAN, SX-SDCAN wireless modules
Try QNX now
To start your evaluation using a QNX Accelerator Kit, contact us here.
If you have already been in contact with your regional representative, please login to your myQNX account and access the accelerator kits at www.qnx.com/products/acceleratorkits.