---
---
You can select a topic from this diagram:
---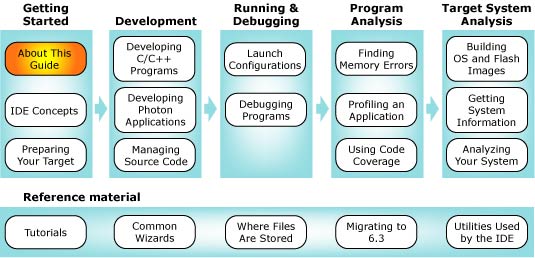 ---
The IDE User's Guide at a glance.
This User's Guide describes the Integrated Development Environment (IDE), which is part of the QNX Momentics development suite. The guide introduces you to the IDE and shows you how to use it effectively to build your QNX Neutrino-based systems.
The workflow diagram above shows how the guide is structured and suggests how you might use the IDE. Once you understand the basic concepts, you're ready to begin the typical cycle of setting up your projects, writing code, debugging, testing, and finally fine-tuning your target system.
Each chapter begins with the workflow diagram, but with the chapter's bubble highlighted to show where you are in the book. Note that in the online version each bubble is a link.
---
---
The following table may help you find information quickly:
This guide assumes the following:
On your host you've already installed the QNX Momentics suite, which includes a complete QNX Neutrino development environment.
You're familiar with the architecture of the QNX Neutrino RTOS.
You can write code in C or C++.
Copyright © QNX Software Systems 2005. All rights reserved.
---