---
---
Thank you for choosing the QNX Momentics development suite. You have everything you need to build and maintain your QNX Neutrino-based embedded system: a comprehensive set of integrated development tools, lots of in-depth documentation, as well as powerful diagnostics and optimization tools for your system once it's up and running on your target.
Board support packages (BSPs), driver development kits (DDKs), and technology development kits (TDKs) are available separately; you can download them from our website, http://www.qnx.com/.
Trusted and proven in countless embedded systems, QNX Neutrino has a growing reputation as the world's most reliable RTOS. We now invite you to explore the advanced tools that QNX Momentics adds to QNX Neutrino.
---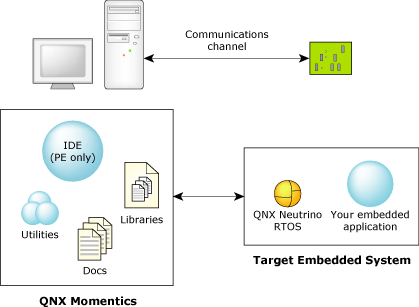 ---
QNX Momentics is the development environment on your host for the QNX Neutrino RTOS running on your target.
The Welcome to QNX Momentics guide is intended to introduce you to the QNX Momentics development suite and help you start developing applications for QNX Neutrino. This guide is organized around these main topics:
The following table may help you quickly find information in this guide:
---
| | |
| --- | --- |
| | If you've already developed applications with QNX Momentics 6.2.1, see the 6.3.0 and 6.2.1 Compatibility notes. You can find the latest version of this document on our website: http://www.qnx.com/. Log into your myQNX account, then go to the Download Center. |
---
Copyright © 2004 -- 2005, QNX Software Systems. All rights reserved.
---