This view displays information about the adaptive partitioning scheduling (APS) on the target system.
For more information about adaptive partitioning, see:
the Adaptive partitioning chapter of the System Architecture guide
the aps chapter in the Adaptive Partitioning User's Guide.
The APS view shows the budget pie chart as well as the APS System parameters and Partition Information:
If you expand the APS System information item, the view shows the following:
The Partitions item includes the following:
You can drag and drop processes or threads to move them from one partition to another. This might cause other processes or threads to move as well.
The Partition Statistics item shows the following information:
The APS Bankruptcy item shows information about bankruptcies:
The pane at the bottom of the view shows graphical information:
Partition budgets (in percentages):

CPU usage by partition (in percentages):

Critical time usage (in milliseconds):
If you right-click on your target, the menu includes some options for the adaptive partitioning scheduler: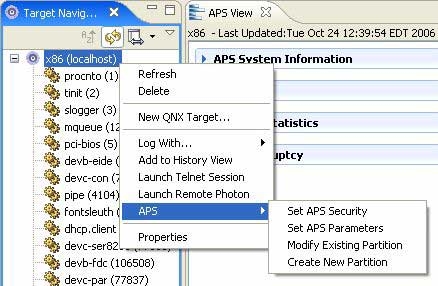 This menu includes:
Set APS Security:

For information about the flags, see Scheduling policies in the entry for SchedCtl in the Neutrino Library Reference.

Set APS Parameters:

These parameters control:

the length of the sliding averaging window over which the adaptive partitioning scheduler calculates the CPU usage
how the scheduler handles bankruptcies. For more information, see Handling bankruptcy in the entry for

SchedCtl

in the Neutrino Library Reference.

Modify Existing Partition:

The partition's budget is a percentage of CPU usage, while the critical budget is in milliseconds.

Create New Partition:

The new partition's budget is taken from its parent partition's budget.
You can also get information about the usage of adaptive partitioning on your system over a specified period of time through the System Profiler perspective's Partition Summary pane pane. For more information, see the Analyze Your System with Kernel Tracing chapter in this guide.